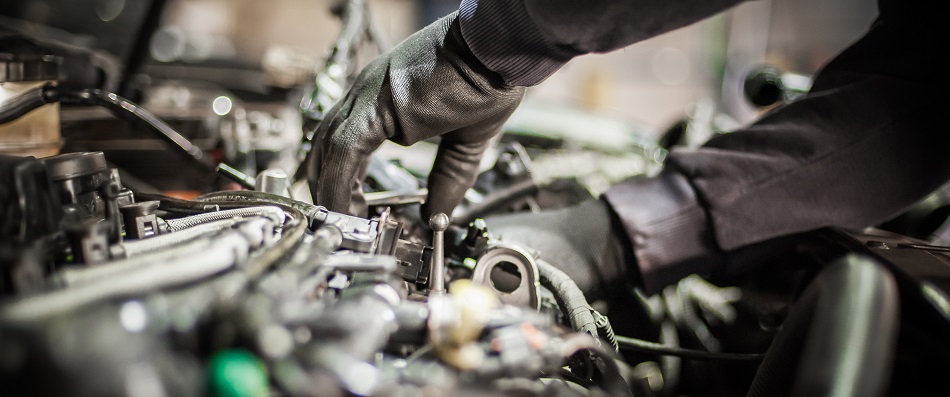 What Is a Timing Belt?
A timing belt is a crucial part of most engines. The engine requires an exact mixture of fuel and air in the combustion chamber. The camshaft opens and closes the valves that allow for the fuel/air mixture to enter and exit the combustion chamber. These are called "the intake and exhaust valves." The crankshaft turns the timing belt, which turns the camshaft, which opens and closes the valves and allows the pistons to move up and down. With so much riding on the thick rubber timing belt, you can see just how crucial it is to have JAR Performance Automotive, LLC maintain or replace a timing belt when needed.
Timing Belt Maintenance
Every automotive manufacturer has a recommended schedule for inspecting or replacing the timing belt. The interval for timing belt inspections and replacement varies widely by the original equipment manufacturer, or OEM. If you want to know whether your car, truck, or SUV is due for a timing belt inspection or replacement, call JAR Performance Automotive, LLC at 620-241-5194 today.
One of the easiest ways to protect against an unexpected timing belt failure is to keep up with the scheduled maintenance on your car, truck, or SUV at JAR Performance Automotive, LLC. A timing belt inspection during an oil change, a tune-up, or another service visit may just save you the hassle and aggravation of being stranded on the side of the road in McPherson, Kansas or McPherson with a broken timing belt.
Symptoms of a Bad Timing Belt
Even though most timing belts are made from high-quality rubber and are designed to last a long time, eventually they will need to be replaced. Here are some indications that your timing belt needs attention. Oftentimes, there is no symptom. Different vehicles may exhibit all, some, none, or different symptoms. If in doubt, give JAR Performance Automotive, LLC a call.
A broken timing belt: While regular inspections can help predict a worn timing belt, oftentimes there is no symptom at all other than your engine dying while driving or not starting.
The engine will not start or turn over: Since the timing belt is responsible for turning the sprockets that turn the camshaft, a bad timing belt will cause your vehicle not to start. This symptom may be caused by other mechanical issues. If your vehicle is not starting, schedule an appointment with JAR Performance Automotive, LLC as soon as possible.
There is an oil leak near the motor: If the timing belt cover is loose, there is a possibility that there may be an oil leak near the motor.
Your fuel economy starts decreasing: As a timing belt wears, it can stretch, causing the valve timing to suffer. Early on, this may not be noticeable in the performance of your vehicle other than a decrease in fuel economy. Come to JAR Performance Automotive, LLC, where our technicians will take care of all your timing belt repair needs and more.
Your engine runs rough or misfires: Similar to the symptom of decreasing fuel economy, a worn out or stretched timing belt affects the timing of your engine. Since the primary job of the timing belt is to synchronize the turning of the camshaft, which drives the opening and closing of valves, any loss of synchronization can affect the way your engine runs, resulting in a rough idle, lack of acceleration, misfires, or stalling. JAR Performance Automotive, LLC can accurately diagnose these issues and get your car, truck, or SUV back on the road.
You hear squealing sounds coming from your engine: Most cars, trucks, and SUVs have multiple belts that can cause a squealing noise. A squealing timing belt may occur during acceleration, while braking, or even at idling. If you hear a belt squealing, even if it is not your timing belt, it is a clear indication that you need to visit JAR Performance Automotive, LLC. A squealing belt will not get better. Ignoring it could cause more costly damages in the future. If your timing belt, serpentine belt, or any other belt is squealing, call JAR Performance Automotive, LLC at 620-241-5194.
A ticking or clicking noise from the engine: This could be an indication that your timing belt is wearing out or that there is low oil pressure in the motor. Either issue requires immediate action.
What If My Timing Belt Breaks While I Am Driving?
Even with proper maintenance and inspection, your timing belt can fail without notice. A broken timing belt will cause your engine to shut off. You'll want to steer to the shoulder or to safety whenever possible. Depending on the type of engine your vehicle has, a broken timing belt occurring while driving can cause additional damage to the engine. Below are some of the mechanical failures you may experience:
Bent or broken valves

Damaged camshaft

Ruined cylinder heads

Damaged pistons
If you notice any of these signs in your vehicle, come to JAR Performance Automotive, LLC in McPherson as soon as you can! Our Quality technicians will take a detailed look into your timing belt and resolve any issues you may be experiencing with your vehicle.
Your Quality Shop for Timing Belt Replacement
Whether you drive a Chevrolet, Ford, Honda, Toyota, or another type of vehicle, eventually you may need a timing belt replacement. If you are near the 67460 area, look no further than JAR Performance Automotive, LLC. Ever since 2016, our team of Reliable technicians have performed many timing belt replacements and inspections. They will work diligently to ensure that your timing belt is working properly. From automotive repair to tire and alignment service, we have an extensive list of services we can perform on your vehicle.
Reasons You Should Do Business With Us:
Transparency
Honesty
Integrity
We are Experts
Years of Experience
For reliable timing belt replacement, visit JAR Performance Automotive, LLC in McPherson, KS. Call us today or go to our website to book your appointment with us.