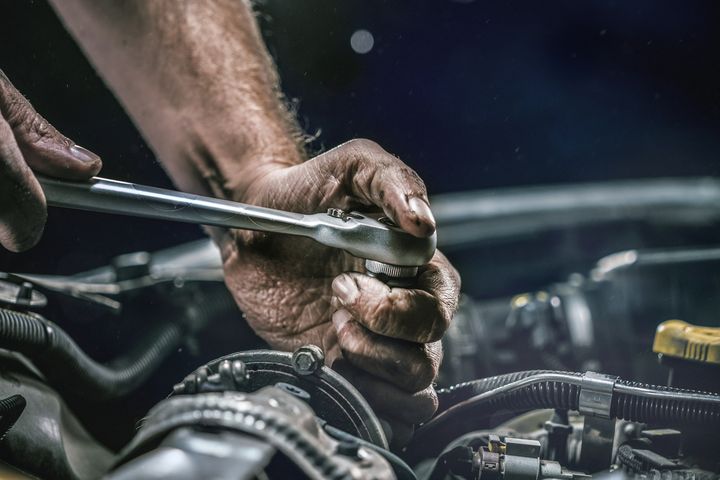 To maintain your vehicle and ensure that it remains in pristine condition, it is crucial that you bring it in for servicing at the appropriate service intervals. This means getting your vehicle serviced around every 30,000 miles or so. Your new vehicle will need a 30k service, 60k service, and 90k service to start. We at JAR Performance Automotive, LLC can notify you when your vehicle needs servicing, and you can bring your car to our service center in McPherson. Your vehicle itself should also warn you when maintenance will be needed soon and when it is absolutely required at the appropriate service intervals. Each make and model has a unique service schedule that is listed in your vehicle's manual. However, a general rule of thumb is to bring your vehicle in for servicing every 30,000 miles. This is different from the regular vehicle maintenance schedule, which is generally much shorter, every 3,000-10,000 miles.
Getting your car regularly serviced prevents any larger damages to your vehicle caused from lack of maintenance. At around the 30k service interval, your vehicle is probably about two years old, assuming that you drive the average yearly amount. Even though your vehicle is still relatively new, the following are the services you should have performed on your vehicle when it hits 30,000 miles to ensure it is in tip-top shape and stays that way:
Air Filter - Air filters make sure that harmful debris and unwanted materials stay out of your vehicle's engine. This protects your engine from possible damage and ensures that it performs at its optimal level. A clogged air filter can make it harder for your engine to "breathe". The air filter prevents any dust, insects, particles, debris, or sand from reaching the engine to make sure the right amount of air and fuel are reaching your vehicle. The tolerances within the combustion chamber are incredibly small, and even tiny debris left unfiltered can cause permanent damage. To get specific service intervals for your air filter, give JAR Performance Automotive, LLC a call at 620-241-5194.
Fuel Filter - Fuel filters ensure that the fuel entering your engine is clean and will not damage your engine. It protects your engine from harmful debris. Your engine will not run properly if your fuel filter is clogged, so it is important to replace this regularly. If your fuel filter is clogged, it could prevent fuel from reaching your engine, causing a small or complete loss of power.
Oil Changes - Avoid unnecessary damage to your engine by getting a regular oil change. Your engine needs oil to ensure that it is running properly and is well lubricated. Determining when you need to get an oil change for your vehicle depends on the type of oil and the driving conditions in which your vehicle is operating in, but at every factory scheduled maintenance visit, we check your oil to ensure that it is in perfect condition and can replace the oil if it is not.
Windshield Wipers and Blades - Wipers clear your windshield of rain, snow, and dirt. Not to mention, they keep your windshield clean. With normal use, your wiper blades will undergo typical wear and tear, and since windshield wipers are an essential part of your car, checking and replacing them if necessary to keep your windshield free of any debris is important so your vision during driving is not impaired.
Tire Rotation - The typical duration to get your tires rotated depends on the tires you use. This service is included in the 30,000-mile service. Getting your tires rotated regularly will extend the lifespan of your vehicle's tires. So, getting this service performed is a good investment.
Power Steering - Power steering works to reduce the amount of effort needed from the driver to turn the steering wheel. Without power steering, steering your vehicle would be much more difficult. Power steering uses either a hydraulic system or an electrical system to assist the driver with steering the vehicle. Power steering that utilizes a hydraulic system relies on a hydraulic pump, the engine's power to drive the pump, and hydraulic fluid to steer the vehicle. The combination of the hydraulic pump and your steering input applies force on the steering gear by pumping hydraulic fluid to the power steering pump.
Your Reliable Shop for 30k Service
When your car has reached 30,000 miles, you can bring your car to JAR Performance Automotive, LLC in McPherson. We make sure that our highly trained mechanics receive ongoing training in automotive technology and auto repair services and will offer you dealership-quality knowledge and experience without the dealership pricing. Your car will go through an inspection and safety check, and all the needed repairs will be thoroughly explained for your approval. We will never recommend repairs that aren't absolutely necessary.
If you are in McPherson, Kansas, Canton-Galva, Kansas, Inman, Kansas, Moundridge, Kansas, Lindsborg, Kansas, or the surrounding areas, schedule an appointment at JAR Performance Automotive, LLC today! You can schedule an appointment with us online or give us a call at 620-241-5194.